Encourage Dr. Matthew Weiss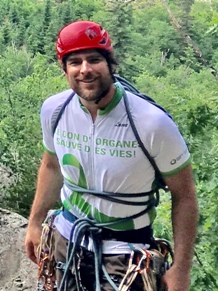 Dr. Matthew Weiss, medical director of organ donation at Transplant Québec and pediatric intensive care doctor at the CHU de Québec – Université Laval, has decided to push his limits to raise money for Transplant Québec this fall as he combines two of his passions: rock climbing and organ donation.
Together with his long-time friend Jim Haggith, a physical education teacher from the south shore of Montréal, they will attempt to scale The Nose of El Capitan between September 17 and 22, 2018. This granite monolith of nearly 1,000 meters (3000 feet) is located in the Yosemite Valley in California, and is widely regarded as one of the best rock climbing routes in the world surrounded by stunning natural splendor.
"Even though I've been climbing fairly regularly since 2005, this climb is going to be a major challenge for me and Jim. First of all, it will take us at least 3 days of climbing, maybe more, to reach the summit depending on the conditions, and we'll have to drag all of our supplies, food and water behind us in a special sack. We'll have to sleep 2-3 nights attached to the wall in a portable ledge, and wake up suspended more than 1000 feet off the ground. I am excited and motivated to push my mental and physical limits. However difficult this climb might be, I have often reflected on the fact that it pales in comparison to the challenges faced by the patients and families who either have given organs after the loss of a loved one or those who are waiting for a transplant. These people were all forced to deal with situations not of their choosing, and by choosing to face this challenge, I draw inspiration from the courage they have shown in the face of hardship."
Devoted to the cause, Dr. Weiss would like to promote his trip as a fundraiser for Transplant Québec. Funds raised by this activity will go towards increasing education around organ donation for healthcare professionals, in order to assure that we are able to honour the request of every person who hopes to offer the gift of life after the loss of a loved one.
Our sincerest thanks to all who encourage Matt and Jim by making a secure online donation using the PayPal link below. Let him know that you too think that hope can be bigger than mountains! All amounts are welcome, and Transplant Québec will issue a tax receipt for amounts over $25.